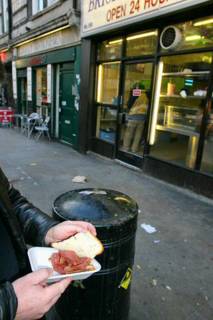 .
So, there we were the other day, outside the bagel place at the far end of Brick Lane chomping on hot salt beef sandwiches and bagels.
.
You know, the one fitted-out like a cross between a public convenience and bakery that hasn't been renovated for at least 40 years. The really popular one that's open 24 hours with the fearsome women who sometimes pretend not to know what you're after if you ask for a 'bagel'.
.
So, there we were with our hot salt beef on rye sandwiches and 'beiyghels' and I got to thinking …
.
'I wonder what the Moabites used to eat? And the Carthaginians? And the Sumerians come to think of it.
I wonder what the Phoenicians used to put in their bread rolls?'
.
I'll never know. These races are long gone and most certainly don't operate deli-bakeries in the East London or Golders Green areas.
.
Now don't run ahead of me here. I'm not even dreaming of posting a blog that touches on the pros and cons of Zionism. Lord no. But, outside that bagel shop I couldn't help thinking that the Jewish people have been around for a very long time; 4,000 years, give or take. Maybe even longer.
.
Off the top of my head, I cannot think of another race or creed that has survived for anything like that time. Faiths have come and gone. Races have been conquered and interbred. Languages have merged and morphed. 4,000 years! These kiddies have been around as long as civilisation itself. And that is in spite of spending much of that time scattered to the four corners of the Earth and subject to countless persecutions.
.
That's part of their problem I think. If you exist with your identity intact for so long, you have literally millennia's worth of gossip and smears floating around about you. For example, there are many cultures around the Middle East and Asia that still bear a grudge against Alexander the Great and his Greek army. However, given that those Greeks have all been long dead these past 2,300 years, nobody's about to start a website suggesting that they're secretly controlling the World Bank. When your empire fails and your people lose their identity, all the baggage goes with you.
.
With that perspective it's not too difficult to understand why younger cultures might get a little paranoid when dealing with Jewish people. These tensions are compounded by the fact that, unlike the Catholic Church, Roman Empire or World Bank, there is no obvious central control structure to attack. If the Jewish people were up to something or held a dark secret it presumably was hidden in the very fabric of their customs and beliefs. Want to destroy the Roman Empire? Destroy Rome. Getting paranoid about the Jewish people? Pogroms all round I'm afraid.
.
As a moderate aside, anti-Semitic conspiracies thrive on the notion that Jews seek to control the world through the banking system. Like Zionism, Jewish control of the banking system is one of those subjects I'm too chicken to air in a semi-public forum like a blog. Emotions are too strongly held on both sides. Any attempt to discuss the subject draws fury and poop and little else of any merit. I would float one thought though.
.
One of the biggest reasons, probably the main reason, why Jews historically worked as money lenders was because Christians and Arabs were forbidden by their religion to make a profit on money lending. It was considered immoral to make money off another man's labours. So, this kind of business was left to the Jews, whose faith permitted them to lend money to non Jews. And if you ended up owing them too much you always had the option of starting a pogrom. So, whatever the truth is about Jewish control of banking, we're the guys who put them there and hated them for it. And whatever happened to the Christian belief that making profit on interest was immoral anyway?
.
As an increasingly irrelevant aside, Christians were also forbidden to shed blood; which is why the Church disposed of people through fire and strangulation. See, no blood! As with the interest thing, most modern Christians seem to have forgotten that inconvenient teaching.
.
Anyway, back to the plot.
.
Another way of thinking about the persistence of the Jewish people throughout the span of recorded time, when all others have fallen by the wayside, is that, well, er, they might really be onto something. But I won't run any further with that particular thought.
.
J
udaism is the first of the three great monotheistic religions. Christianity and Islam derive directly from it. I appreciate that many people write off all religion as mumbo jumbo but I personally think that all three have had a positive impact of human development. Unlike the religions that came before, all three stress the importance of the individual and the choices those individuals make in their lives. Personally, I'm all for that kind of thinking. So, kudos for Judaism for getting the ball rolling on that one.
.
Now, Zionism, well, as stated previously, I wouldn't even dream of touching on that particular subject. One way or the other. That particular issue has been bouncing around for 2,500 years and it's difficult to see what will stop it bouncing around for another 2,500.
.
One other thing that does come to mind. It's not specifically a Jewish thing though; I've seen Amish and Mennonites doing similar. What is it with the Hasidic dress code? Out of 4,000 years of fashion to choose from why have they settled on dressing like they're off to an 18th century Polish wedding every day? Why is that particular moment in history frozen? And does God really give a stuff about the cut of a man's suit? I suppose it could be worse. They could have decided that the 1970's were their special moment in time. Imagine that, a religious group that holds flared trousers, brown corduroy, ruffled collars and platform heels as sacred garments to be worn until the End of Days. Now that's a frightening thought.
.