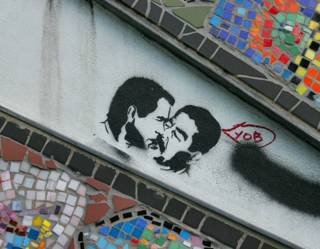 Today, Tracy and myself received text messages from our mobile phone service provider, Orange, encouraging us to send an SMS to a special number and be charged £2.50 each towards tsunami relief.
.
Tube station staff have taken to waving buckets under travellers' noses, collecting money for tsunami relief.
.
Princes William and Harry were shown on TV helping at a UK Red Cross depot, packing aid packages for tsunami relief.
.
Our chancellor, Gordon Brown, announced a couple of days ago that debt repayments from affected countries would be suspended to enable funds to be directed towards tsunami relief
.
50% of the web sites I visit are now directing me towards other sites that are collecting money for tsunami relief.
.

TV news bulletins currently consist of 25 minutes of tsunami stories then straight onto the sport.
I could continue. For a long time.
.
Yes, just about everyone is going stark, staring tsunami relief bonkers. And I'm starting to suffer from tsunami fatigue. Human compassion is a beautiful thing but there's a lot more than that going on now. There's a kind of madness at work. An irrational madness. Four million people have died from preventable conditions over the last five years in the Congo. God knows how many people have died in the Sudan over the last two years but we hear hardly any of it. Largely because those places are dangerous and there are no cosy five star hotels located near to suffering so that the journalists can have a drink at the end of a hard day's death porn.
.
The whole tsunami thing is out of control now, as just about every government, corporation, celebrity and individual feels obliged to jump on the bandwagon. Surely that's a good thing? Not if all this attention is at the expense of others in equal, or more desperate need, it isn't.
.
Indonesia, Thailand, Sri Lanka are, relatively, prosperous countries and only relatively small areas have been affected. They can feed themselves and need debt relief a lot less than many other places. How is debt relief going to provide immediate care or prevent disease this week anyway? The affected countries need logistical support and professional skills not sacks of millet and bottles of Evian or pressure to restructure their economies.
.
That's why Medicins Sans Frontieres asked people to stop donating money to them for tsunami aid last week. They had collected enough money to do what they believed they could do and didn't want the responsibility of managing an excess of contributions. They felt that spending the money on other projects would be an abuse of the trust placed in them by donors. My, how the other aid organisations whined at this news. Kudos MSF and shame on the others.
.
A most peculiar situation is now looming on the horizon. Governments around the World have now pledged large slabs of their existing aid budgets to tsunami affected areas. This in response to the huge level of contributions made by private donors and the PR pressure that came with that. This means that other, more desperate parts of the world, particularly in Africa will be cut short. Aid organisations that have collected zillions for tsunami relief will now have to a) spend all that money on places like Thailand and Sri Lanka that aren't all that poor, or b) divert some of that money to more desperate places that were not struck by the tsunami. Answer b) would be more logical but, sorry, that would mean, unlike MSF, those charities have effectively been party to a fraud.
.
I've mentioned this before, but 9/11 is a good example of disproportionate funds being poured into charity, by media-struck members of the public, resulting in a bizarre level of unfairness. So much money was collected after 9/11 that dead firemen's families received $4m apiece (complete with all sorts of squabbles as to who got the cash), but only if they died on 9/11. Families of firemen killed on other days got zip. The same thing is about to take place on a much, much larger scale.
.