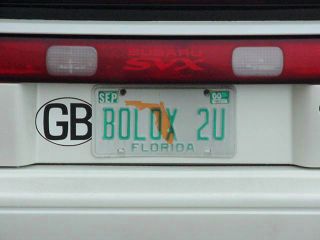 A little while after writing the previous entry, about how London Buses was planning to recruit Snake Plisskin to hunt down fare evaders, I got chatting with Tracy about the London 2012 Olympic bid.
.
She had only seen the promotional video for the first time a few days before, on the shuttle back from Heathrow Airport. Her first reaction to the video was 'Wow! I want to live in that London!'.
.
Don't we all.
.
The conscience-stricken film makers have placed subtle clues in the video to let us know that it's a deranged fantasy. One shot shows David Beckham with a half-completed crossword with a pen in his hand pretending that he was responsible and I could swear I saw a group of drunken unicorns dancing in the background in another scene.
.
Later, in the taxi on the way home from Paddington Station, Tracy was talking with a taxi driver about the Olympic bid and he said to her, in a perplexed tone, 'Have you met anyone who actually supports the bid?'. The answer was, of course, 'no', which is strange given that the impression exuded by the media is that we're all gagging for it.
.
Last night we caught the current Government-sponsored ad for teacher recruitment. Filmed in the same high-contrast, glossy world as the Olympic bid video, the ad portrays a teaching environment packed full of well-scrubbed, immaculately turned-out kids listening attentively, staring in awe and laughing politely at appropriate moments as their cool, with-it teacher does his stuff. At the end of the ad, the inspiring backing tracks fades back and the voice-over says 'The rewards of teaching. Become a teacher and start on no less than eighteen k a year'.
.
Nobody, least of all the teachers I know, believe that this ad has any connection with reality and few people would have the cheek to describe £18k pa as a 'reward' for working in a British inner city school. An insult maybe but not a reward.
.
Long, long ago government paid-for advertising was strictly limited to low-cost public information ads. The kind of ads that advised you not to lock yourself in a fridge then throw yourself into a canal, to unplug the tele before going to bed and not to trust strange men, unless they were standing at road crossings dressed as super-heroes complete with bulge-hugging tights.
.
The British government is now the biggest buyer of advertising in the UK. As of old, the ads are ostensibly aired to inform the public but their hidden agenda is to portray a bright, modern, successful Britain that is at peace with itself. Unlike the grimy canal-side world of the old ads, the new ones are set exclusively in a bizarre Britain that's as mythical as the Land of King Arthur. It's propaganda. The only difference between this stuff and the material Goebbels and Stalin put out is that it is not, usually, made in black and white and it doesn't feature tractor production figures.
.
Anyway, I was in this particular mindset when I watched our Home Secretary being interviewed on the news last night.
.
Apparently, our government has accepted that detaining foreign nationals in prison indefinitely without charge or trial is both discriminatory against foreign nationals and a clear case of illegal imprisonment. So, brilliantly, our government will change the legislation. It will no longer be discriminatory because it will apply to British citizens as well as foreign nationals and it will no longer be illegal imprisonment because people will be locked-up indefinitely in private houses, Burma-style, rather than in proper jails.
.
What particularly chilled my blood was the language used to justify this action. The Home Secretary used expressions like 'enemy within', 'unprecedented public emergency', 'necessary to defend our way of life', and 'the life of the nation is at risk'.
.
This is exactly, and I mean exactly, the same language that Hitler used. For a few seconds in front of the tele last night I had a spooky feeling that this was exactly the same path Germany followed 70 years ago. I felt scared. Really.
.
I grew up at a time when totalitarian regimes seemed to be a thing of the past and people believed that the future would be better. Not any more. Now, I find myself living through an interactive history lesson. If I was ever curious to know how the German people could stand by and and even support the invasion of Czechoslovakia or Poland or allow the demonisation of an entire race based on an illusory terror threat or believe the drivel they were fed by Goebbels and his mates, all I have to do is turn on the television or read a newspaper. It's not a nice feeling.
.
Sounds too extreme?
Consider what has been imposed on us since 911 …
proliferation of armed police and other security staff

massive increases in funding for the secret police, sorry, intelligence services

massive, unannounced increase in surveillance of private individuals

hundreds of unwarranted arrests

provision for indefinite imprisonment without charge or trial

limitations on right to travel and free movement

unprovoked, illegal, pre-emptive attacks on other nation states

compulsory identity cards on their way

provision for centralised national police service
All justified on the basis of a lie. And remember, all of these measures have been set in place indefinitely. Truly democratic politicians, as opposed to fascists, would attach time-limits to the legislation such that it would require regular renewal.
.
I appreciate that I'm in a minority in my disbelief of the 911 story. After all, it's perfectly reasonable for three enormous offices buildings to collapse neatly into their own footprint. Yes, don't forget WTC7 which spontaneously fell down even though it wasn't hit by anything. It happens all the time. And yes, these were very special building collapses, which spared hijackers' passports but destroyed all four of the aircraft black boxes ...
.
But even if you believe that 911 happened as you've been told, the question of the motivation of the terrorists is still deliberately obscured. The terrorists don't 'hate us for our freedoms', they don't represent 'a threat to our nation'. They have neither the inclination nor the capacity to threaten us to anything like the scale our scumbag politicians are claiming. The terrorists want us and our proxies to clear out of their Holy Places; Jerusalem (Israel), Mecca and Medina (Saudi) and Karbala and Najaf (Iraq). They'd also be quite pleased if we stopped cluster-bombing their wives and children as well.
.
But that's not an option is it?
"In Germany, they first came for the communists, and I didn't speak up because I wasn't a communist. Then they came for the Jews, and I didn't speak up because I wasn't a Jew. Then they came for the trade unionists, and I didn't speak up because I wasn't a trade unionist. Then they came for the Catholics and I didn't speak up because I wasn't a Catholic. Then they came for me–and by that time there was nobody left to speak up."—Martin Niemöller (1945)
.