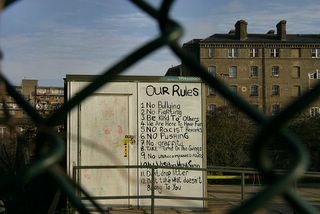 .
Whilst watching George Bush's inaugural address the other night something dawned on me for the first time. The answer to a question that's been niggling me for a couple of years now …
.
Why didn't the US or UK intelligence services plant some WMDs in Iraq?
.
It's not like we haven't got any spare ones knocking around. And Saddam bought his original stock off us in the first place, so our guys wouldn't even have to do much in the way of changing the labels, list of ingredients or dietary information.
.
My problem is that I've been slow on the uptake. Dubya, Blair and Co. did not order the planting of WMDs because they didn't need to. They've got their countries buttoned-down so well they can do whatever the f*ck they like.
.
And planting WMDs would have run the risk of exposure. Short of sending Donald Rumsfeld over in a white van loaded with anthrax, they would have had to bring some people in on the act and that can get messy.
.
Long gone are they days when there were any serious threats to the establishment plan. The media is more or less totally controlled, the general public is artfully misdirected and weighed-down with too much money, too little money or drugs, and its collective intellect suppressed with a nicely degraded education system.
.
It's not the 1960's any more. Back in those days it was necessary to deal with threats by shooting them in the face. Unlike JFK, RFK or MLK, contemporary anti-establishment figures pose no threat whatsoever. Why bother to arrange for Michael Moore to be accidentally strangled in a bizarre baseball cap related accident? Just let the guy talk. He's a wanker anyway.
.
Nope, apathy rules supreme and there are no icons to inspire us, no alternatives to turn to. In that kind of environment Tony Blair or George Bush could be found covered in cocaine dust, in bed with a disembowelled prostitute deliriously chanting 'The bitch was asking for it. The bitch was asking for it'.
.
and still get re-elected.
.
Bush and Blair did half-heartedly attempt to explain away the lack of WMDs by saying that regime change was really the goal. Regime change was necessary because, in their words, 'Sadam Hussein Is The Weapon of Mass Destruction'. So, they trundled out the SHITWMD explanation for a while but they didn't really care too much. Who are the rest of us going to call now that we finally, derr, realise we've been lied to? What are we going to do about it?
.
Biff.
.
At times like these I find myself turning to the teachings of one of the great political and social commentators of recent times; Paul Verhoven, director of Showgirls and Basic Instinct.
.
When not making films about lapdancers and lethal shags or directing 1970's softcore Dutch flicks, featuring a youthful Rutger Hauer, Verhoven spends part of his time making sci-fi films. The beauty of sci-fi, or course, is that fact that you can say pretty extreme and cutting things about the world around you today, provided you also feature some really enormous man-eating insects to distract the morons who make up 70-80% of our populations. Besides, I don't consider myself a moron and I still think enormous man-eating insects are cool.
.
And so Verhoven gave us Robocop, Total Recall and Starship Troopers. The three of them, together, say pretty much everything that needs to be said about contemporary US and UK society. From executives blowing each other up in the promotion race, the privatisation of public infrastructure and the sacrifice of individuality on the altar of technology in Robocop, through to the rise of a fascist superstate, taking its brainwashed population to unnecessary war in Starship Troopers. It's all there.
.
And you thought Starship Troopers was just The Sands of Iwo Jima meets Zulu meets Star Wars meets some Nazi wet dream propaganda flick, when all along it was biting social commentary. Yeah, and Russ Meyer movies were just about women with enormous breasts.
.
One of my many favourite lines from Verhoven movies is spoken by the Cohagen character in Total Recall …
.
It's because I have the greatest job in the solar system … I can do anything I want. ANYTHING. And I fear that if the rebels win, it all might end. AND YOU'RE FUCKING MAKING IT HAPPEN!
.
And little later on, the same character is asked if the air supply should be reconnected to a group of suffocating people in his colony, his world if you would. His reply?
.
'Fuck 'em'
.
It's about time Verhoven gets the recognition he deserves and his films studied alongside the works of Plato or Marx. They're a lot more relevant and include much better chase scenes; plus heaps of Verhoven trademark gratuitous nudity and mutilation.

.

Unfortunately, whilst comprehensively cataloguing the issues facing individuals today, Verhoven offers little in the way of solutions. Maybe he's saying that there are none. The hero in Robocop is destined to a life of excrutiatingly poor sequels, the happy ending in Total Recall could possibly be the result of a deranged fantasy induced by brain damage and Starship Troopers finishes with a recruitment film that suggests the war will last pretty much forever. Thanks Paul, you're not really making yourself part of the solution are you.
.
and, OK, Russ Meyer films were mostly about women with enormous breasts ...
.