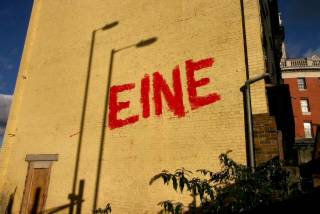 .
I slapped up a post a few days ago that attempted to give a religious explanation for the death and misery caused by the recent tsunami in the Indian Ocean. Towards the end of the post I described atheism as being a belief system, no different and no more scientific than God-based belief systems. After all, if you cannot prove the existence of God you cannot disprove the existence of God either. Anyone is perfectly within their rights to call themselves an atheist but I maintain that they are being dishonest if they pretend that this is somehow a science-backed position. Those of us lacking the faith to believe or disbelieve in a God are best described as agnostics; given that there's no objective way of being sure either way.
.
Anyway, someone picked me up on that claim by way of a couple of comments. Their point was that atheism can be the absence of belief in a God, or gods, rather than an active disbelief and that this is a scientific point of view.
.
Yes, if you choose to define atheism this way, it is an objective statement. You are saying 'I have no opinion on the existence of God', which isn't saying very much about anything except for your lack of thoughts on the matter. Anybody claiming to be this kind of atheist hasn't got much to discuss with anybody else on the subject as, by their own admission, they don't have an opinion. No Nobel prizes or invitation onto the alien mother ship to discuss the meaning and purpose of life for you I'm afraid.
.
So, let's stick with the commonly understood meaning of atheism, as in 'I don't believe in God', which, as discussed previously, is a non scientific belief system and effectively its own kind of religion. A religion where science is the new scripture and scientists the new priesthood.
.
I first realised that Western Science was a religion about ten years ago. I was attending a Fortean conference in Central London. A good Fortean maintains a sceptical but open mind about anomalous observations discarded by mainstream science. Critically, the idea is NOT to embrace any loony theory that comes your way but to give it a fair hearing and judge it on its own merits without any preconceptions.
.
Just like scientists do.
.
Yeah right. And I'm Britney Spears.
.
Scientists are no more virtuous, wise or free from emotion or prejudice than the rest of us. However, they are the priests of the secular age and so many of us, not least many scientists themselves, pretend that they are wiser, more virtuous and more even-handed than the rest of us. After all, if we can't trust science what can we have faith in?
.
Anyway, one of the talks at the conference was given by a guy called Percy who maintained that the entire Apollo Program was hoax. Now this was in the pre Internet, pre Conspiracy days when this idea hadn't been as circulated as widely as it has today.
.
It came like a bombshell.
.
There were dozens of people in the audience literally shaking with rage. They were furious. The Q&A session after the talk was more like an inquisition that an objective discussion. There were plenty of flaws in what Percy was saying but that wasn't what annoyed the audience. What annoyed them was the very suggestion that science had been twisted to accommodate a hoax. For all the world they acted like believers whose very articles of faith had been challenged.
.
The biggest give-away was that none of them were laughing.
.
If someone says something negative or silly about a subject you don't have a passionate conviction about, your response will be to ignore them, correct their error or, most effectively, laugh at them for being a nutter. If, however, someone passes a negative or silly comment about something you're emotionally attached to, you get really pissed off.
.
Those guys at the lecture were really pissed off.
.
Which is why supposedly rationalist atheists can be just as good sport as supposedly irrational fundamentalist Christian. A sense of humour by-pass came fitted as standard with both of their belief systems.
.