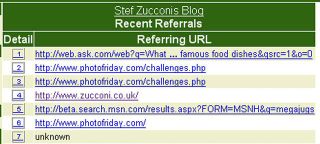 .

A few weeks ago I wrote a post bemoaning the fact that the only way to drum up traffic through my blog was to make posts with words like iPod, porno and megajugs in their titles ...
.
Glancing through the Sitemeter web stats for this blog just now, guess what I came up with as my 5th most recent referring URL?
.
An MSN search for 'megajugs'.
.
Our intrepid explorer didn't stay on my blog for very long.
.
There are some really, really desperately sad, sad people out there.
.