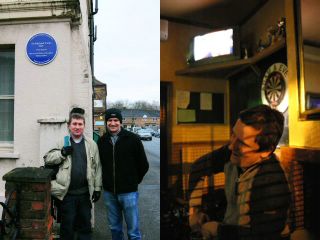 … so, there we were on Saturday evening in Rotherhithe, looking for the newish plaque commemorating Michael Caine's birthplace. Fortunately we had acquired a local guide, Lance, along the way. Which was just as well, as otherwise we would have walked right past it.
.
Michael Caine is a South London pureblood. Born in Rotherhithe, his family moved to Camberwell and then later to Peckham. Which means that he is not actually a proper Cockney. Nor he is, as far as we can tell, Jewish, even though his real name is Maurice Joseph Micklewhite, which sounds pretty Jewish to me.
.
Being a bespeckled South London Cockney gentile myself, this means that I can identify with Michael Caine and love him even more, if such a thing is possible. East End non gentiles have to make do with Stephen Berkoff as a role model. I'm happy with my end of the bargain.
.
Anyway, the three of us stood in awe beneath the blue plaque honouring this great man's birth.
.
It's a bit rubbish actually.
.
The building formerly known as St Olave's Hospital is now home to the glamorous-sounding North Southwark Community Mental Health Unit. The building is tatty and halfway towards being a full-on mouldering ruin. Though barely a year old, the plaque was showing signs of discoloration and Southwark Council hadn't even repainted the cracked paintwork before erecting the plaque.
.
And how did Sir Michael describe the honour of having a plaque erected in his name on this corpse of a building?
.
"..better than winning an Oscar."
.
What a star! Seventy one years old and still taking the piss. Truly a man worthy of our continued admiration.
.
After paying homage to our icon, the three of us set upon a whirlwind Bermondsey pub crawl in search of the last remnants of the lost Great White Tribe of South East London. And find them we did. We struck gold on our second pint and spent the rest of the evening in pub number two. Large parts of London have undergone wholesale change in recent years but not there. Time had stood still for 25 years or more and we just sat back, supped on the finest and fizziest of lagers and took it all in. High points included:
Overhearing a transaction between a 16 year old and a twelve year old. The 16 year old had increased his commission for buying the 12 year old's cigarettes to 20 per cent

Women dressed up in their 'best' just to go to the pub

13 year old girls ordering rounds of drinks

A disco taking place in one corner of the pub whilst the rest of the room carried on as normal. Disco for the ladies. Pool, darts and televised football for the gentlemen

The en suite dart board having its own dedicated spot lights so people can continue to play darts whilst the disco is in full swing around them

Dance music exclusively selected from the golden age of disco, as standard fare and not as part of any silly old theme night

A single, really lame party light

The only concession to multiculturalism; draught German lager

A limited but impressive selection of divorcees and widows, some of them old enough to be Michael Caine's cast-offs, dancing for our delectation, Salome-style

Several groups, comprising three generations of females from the same family, sitting impassively around small circular tables

Repeatedly lacerating my arms on the way to the toilet on nicotine-stained artex wall coverings

A middle aged barwoman holding our hands when giving us our change to make sure we didn't drop it

Consciously holding back the contents of my stomach on leaving the pub at the end of an evening acclimatising myself to an atmosphere composed of 20% alcohol fumes, 80% tobacco smoke

Etc
I guess you'd have to be of a certain age and background to understand to retro appeal of a night out like this. I haven't had one for at least 15 years and it felt like coming home. In the words of Captain Kirk at the end of Wrath of Khan, I felt young again. Well, maybe not that young; I only finished five pints and endured the ignominy of having my two companions sharing numero sei between them because I feared it so.
.
I'm sure that there are plenty of pubs and surrounding communities just like this left about, particularly outside of London, but they are a dying breed. Tastes have changed and many of the recent immigrant groups don't really warm to pub culture. Kids nowadays prefer to spend their nights in larger, flashier drinking factories, which probably goes some way to explaining the real, or perceived, rise in binge drinking in the UK. A certain amount of excessive and under-age drinking was always permitted in old style pubs but usually under some degree of adult supervision; 'Now now dearie. Eight pints is more than enough. You don't want to miss school tomorrow'.
.
We've seen a lot of dead pubs during the course of our walks around London and many of them have been converted into flats. That's a shame. In a few years time only a handful will be left and only kept in business by curious, living history, visits from Japanese coach parties.
.
Lance walked home via his second kebab of the weekend (two kebab weekends, I remember those) and Ian and myself fetched ourselves home on the tube. A quick change onto the Northern Line and, within a few minutes of leaving the pub, we were sitting opposite a couple of dodgy foreign geezers who glared at us as if we'd just murdered their sisters. We were back in 2005 alright.
.
Stephen Berkoff was on the tele when I back to the flat; doing the voice-over for Lucozade Hydro-Active Fitness Water. I should have taken the hint and drunk some before going to bed. Maybe next time we could visit his blue plaque and drink a few beers afterwards. Or how about the Sid James plaque on Gunnersbury Avenue .... Does Kenneth Williams have one?