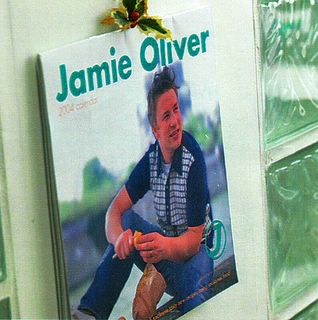 .
Caught the first episode of Jamie's School Dinners earlier tonight. Fantastic. Watching our hero attempt to cook meals for 1,000 scutter and chav children brought a smile to my otherwise drab life. Favourite scenes included …
Kids scraping vegetable garnishes and anything else of nutritional merit off their donkey burgers and fries before eating them
Jamie attempting to hide fresh vegetables in his pizzas by covering them with melted cheese
The chief dinner lady asking incredulously 'Do you taste everything you cook before serving it to people?'
Watching 200 kids walk right by Jamie's green chicken curry and courgette focaccia, selecting sausages made from pigs' lips and chunks of reconstituted potato shaped like smiley faces instead.
This vision of our nation's future choosing a processed meal costing 37p in preference to fresh food prepared by a famous chef that would cost between £15-20 in his trendy East London restaurant was profoundly amusing. He is so onto a loser. There's more next week and I can hardly wait.
.
At this point I could launch into a polemic about the folly and short-sightedness of feeding inner city schoolkids meals that cannot cost no more than 37p each whilst we spend billions pursuing unjust foreign wars but Jamie's doing that already, sort of.
.
No, that's not why I've written this post. I was just thankful for any opportunity to reproduce the now legendary publicity photo for Jamie's 2004 Calendar, as featured in the Boots 2003 Christmas catalogue. And I took it.
.