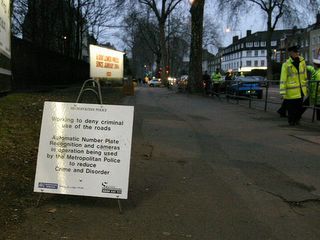 A couple of weeks ago I took part in a discussion on a photography forum. The subject of the discussion was 'Tips for candid street photography in London'. I commented that real London candid street photography was so dangerous as to be virtually impossible. A few people pitched in and took me to task; implying that I was a malnourished, limp-wristed kind of photographer for saying such things. They posted links to galleries of candid London street photography to show me how wrong I was.
.
Almost without exception, the galleries were filled with sneaky pictures of people drinking coffee in Starbucks', tramps sleeping on benches in Leicester Square, shots of tourists or portraits of people who clearly knew the photographers.
.
I was so bored I could have screamed.
.
Let's be clear here. Good candid photography of real London, 90% of London, is virtually impossible. That is why most of my pictures do not have people in them. And I still find myself dealing with people who suspect me of having taken pictures of them, even if I am facing completely the opposite direction. People in this town are nervy of photographers. They either think you're a pervert or working for the government; though it has to be said that 90% of photographers do fit into one or both of these categories. The act of raising a camera to your face, in anything but a touristy or unpopulated environment, immediately attracts attention. I'm currently working on the specification for a new digital candid street photography system that I will forward to Canon, Nikon and the other big marques. Key features of my new system will include:
Development of a high surface area CMOS imaging chip with good signal to noise and dynamic range attributes, packaged in a rangefinder-style body, incorporating a focal plane shutter and the facility for interchangeable prime lenses
.

Predator style 'heads-up' targeting goggles, coupled to a shoulder mounted hydraulic camera mount that makes really cool swooshing noises when it rotates, complemented by a multiple-barrelled laser canon mounted on the other shoulder for close area defence
So-equipped I might then consider taking pictures of shoppers in the Elephant and Castle.
.
Case in point. On the way home this evening I was walking along the Kennington Road; just opposite the house where Charlie Chaplin grew up before sailing to America and a productive lifetime of unfunny comedy and sex with 14 year olds. Some kind of police operation was in progress. Nine or ten police were taking down the particulars of the drivers of five cars they had pulled to one side. Thoughtfully the police had set out a series of signs explaining what they were up to. The signs said …
.
Automatic Number Plate Recognition and cameras in operation being used by the Metropolitan Police to reduce Crime and Disorder

.
This sign tickled me for numerous reasons; it contains a couple of tautologies and grammatical errors, the words Crime and Disorder are capitalised and the word Disorder itself is just so vague and police-state sounding. 'Stop villain! I believe you are utilising this vehicle for the purposes of Disorder!!!'.
.
All in all, this poster had a vaguely 1984 feel to it and I resolved to photograph it. Admittedly, 1984 didn't live up to its rep when it finally arrived (nor did 1999, 2000 and 2001 come to think of it) but I like that whole bureaucratic police state vibe and enjoying recording its manifestations.
.
Also, I was pretty impressed by the Automatic Number Plate Recognition system. It appears to include an advanced, and unpublicised, skin pigmentation detection system as well. The drivers of all five cars were Black. Now, I'm no PC liberal but even in Lambeth five out of five is pushing it. Mind you, if they could only hook up this sophisticated new software to some kind of truncheon-bearing robot arm we'd really be talking progress.
.
The other funny thing about this sign and all its numerous siblings that litter the streets of this fair city is that, if signs promising effective law enforcement really helped to improve their local environment, I'd be living in f**king Shangri-La right now.
.
And I don't.
.
Anyway, I took out my camera and made a picture of the sign. Not looking for a fracas with the police or irate members of the public, I was careful not to point the camera towards any of the people on the side of the street. They still thought I was up to something though. One of the drivers and a policewoman started glaring at me, quite aggressively.
.
'F**k that', I thought, 'I'll ask them what their problem is'. To cut a long post short, the driver was a British born Caribbean woman who was worried what I up to, thinking I was part of the police operation. I assured her that I was not, showed her the picture and apologised for any concern I may have inadvertently caused. The police woman was more interesting. She thought it was extremely unusual that someone would stop on the street to photograph a sign. She used the word 'unusual' three times in two sentences. I toyed with trying to explain post-modern irony to her, gave up on the idea and lamely said 'It's my hobby. I take pictures of official signs'. She used the word 'unusual' a few more times and looked at me as if I was some kind of nutter. I replied that I preferred to use the word original rather than unusual and smiling, like a nutter, I bade a fond farewell and carried on home.
.
I mention this story for two reasons. Firstly, because it demonstrates that even taking pictures of inanimate objects in public places in London can cause unfavourable or paranoid attention. The second point is a little more subtle. I think that sign was funny. I know that some of my friends will also think it is funny. It was worth a digital frame of any plucky photographer's time. But the police woman was clearly not equipped to see the humour in what I was photographing. And then we get onto the issue of what does or does not constitute suspicious or potentially unlawful behaviour. On countless occasions I've heard people utter lines like 'Only people who have something to hide are against identity cards' or 'What good reason would he have to behave like that?' and so on. If we're not careful, particularly with this War on Terror and other nonsenses, there's a real risk that even relatively slight deviations from 'normal' will be treated as suspicious or even criminal behaviour.
.
Yeah, yeah, Stef's in La-La Land again. Maybe. But you weren't called 'unusual' half a dozen times by a policewoman in the space of two minutes. It's not like I had my pants on my head or anything like that. Well, not today anyway …
.