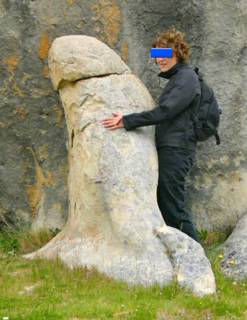 Natural Wonders of New Zealand you won't see featured in any tourist brochure or The Lord of The Rings No.46: Limestone outcrop, Castle Rock, South Island
.
I think my spam email is becoming increasingly tailored.
.
A few days ago I wrote a blog about a local expression from my Mum's part of Italy:
.
Son Dur Com Un Sas
.
In my mum's region this expression means 'I'm tough like a stone'. In Milan, as I found to my cost, the same expresson means 'I have a rock hard erection'.
.
So, I write the blog entry and next day I get this in my inbox:
.
Enquire within for...Brand new TADA_LAFlL s0ftabs for R0CK l.NSTANT ERECTlON.S
Just put half a dose under your tongue 10 mins prior to desired time of play,for results that last all day long.
RRP price per dose: $19/dose
.
Pay for erections!!? I'm due to turn 40 in a few months and I still have more erections that I know possibly know what to do with. It's been such a problem lately that I've been actually thinking about paying someone to take them away. Christ, if there are people out there really willing to pay $19 per boner they can have some of mine at a fraction of the cost. I need never work again.
.