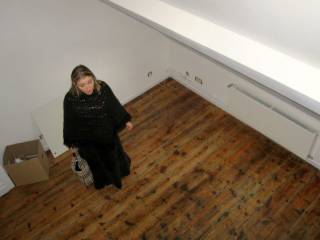 'Mum' by Izzie aged 6 (I shall be exhibiting a portfolio of Izzie's work under my own name in the very near future)
.
So, there I was at a party at a friend's house on Saturday. Most of the people there were in their early thirties and had young kids.
.
Coupled-up thirtysomething parties are usually a lot less fun than uncoupled twentysomething parties. Admittedly the standard of food and drink on offer is better but this is more than outweighed by the drawbacks. Coupled-up thirtysomethings are not looking for sexual partners and so the single strongest imperative for drink-sodden interaction is absent. As a demographic we generally don't drink to excess, as we like to sleep in our own beds and frequently have small children waiting for us at home. So, we talk. Just talk. The problem with talking is that only a very limited range of topics is permissible. You can't drift onto any subject that causes the thirtysomething to contemplate the life they have made for themselves or the realities of the world around them. The safest topics are child care, home improvements and holidays. Not coincidentally, a similar agenda now dominates British television.
.
Even though I rarely find the women at such events attractive, and they certainly don't find me attractive, I often long for someone to gather up everyone's house keys as a prelude to some deranged orgiastic, partner-swapping shag-fest, just to add some spice to the occasion. Fat chance. Everyone's far too tired after a day spent indulging their kids' every whim.
.
These kind of social occasions are particularly difficult for Tracy and me. As a couple, and as individuals, we have always spent less than we earn. We don't drive a car. We don't have spawn, yet. We don't kid ourselves that our jobs, when we have them, are important. We are intensely resistant to marketing, commercialisation, exploitation and unfairness, yet believe most left-wingers are dicks. Coming from modest backgrounds, we have no middle class guilt. We go on holiday to places like Louisiana.
.
We simply can't connect with many other UK couples in our demographic. Or many other demographics come to think of it. We usually chat amongst ourselves. Occasionally, someone will approach us out of politeness' sake. Within a few seconds, as a result of some unstoppable primeval compulsion, I will turn the topic of conversation to something I find interesting; normally phrased as a question. Questions posed by my goodself last Saturday included:
.
'Don't you think it's funny that we used to laugh about how sick the Japanese were for making game shows that degraded and injured their contestants and now, twenty years later, our television is filled with shows that are much worse. Do you think the Japanese are taking the piss out of us right now?'
.
'Aren't all reality TV shows based on the premise that people want to watch other people try to make something of their lives and fail? Isn't the message that it's better to sit on the sofa and be a mindless consumer rather than try a new life overseas, start a new business or improve their home? How would the British public feel about watching a show where someone successfully moved to another country with a better quality of life, decent schools and safe streets and that ended with the person cheerfully sticking two fingers up at the media-controlled morons back in the UK? Would people want to watch that? Would YOU want to watch that? What does that say about you and your life?'
.
'So you think the UK should have an open door immigration policy for all people living under oppressive regimes? China is an oppressive regime with a population of two billion. Would you mind putting up a couple of hundred Chinese in your spare room? Where's the logic in your opinion?'
.
Material like this doesn't usually go down very well and is usually met with a glazed look and a casting about for some plausible excuse to edge away somewhere else. When I was younger I fell prey to self-doubts that I was intrinsically boring. With a few more years and a little more self-confidence, I know now that boredom isn't the issue. Far from it. Occasionally, people will respond cogently to something I say. I don't really mind if they agree or disagree. Either way, it doesn't really matter. I'm not 100% sure why I was set on this Earth but I'm pretty sure the answer in some way involves making sense of the World around me. I am keen to meet people who can help me with my, our, task. Talking about the merits of pine furniture doesn't make the cut.
.
I'm not being fair really. The English middle classes are the easiest target in the World and there are many people who make a tidy living out of exploiting their hang-ups. English middle class twenty and thirtysomethings had an easy upbringing. They earn inflated salaries. They feel guilty. They should do. They compensate for that guilt by buying Fair-trade coffee, handing money over to street beggars, supporting bullshit recycling schemes and giving a few pounds a month to charities managed by other white boys on a guilt trip. Yet, at the same time, they drive everywhere, employ immigrant nannies and cleaners on a pittance, send their kids to private schools and spend enough on toddlers' birthday parties to keep half of the Sudan in millet for a year.
.
This particular party wound up with a group of people discussing how many radiators each of them had in each room back at home. Tracy and myself had broken off and were engaged in our own conversation about the plague of ceramic hair straighteners that is currently infesting the UK. Later, Francis, our host, drove us home a 3.30 in the morning. He had barely consumed any alcohol and neither had we.
.