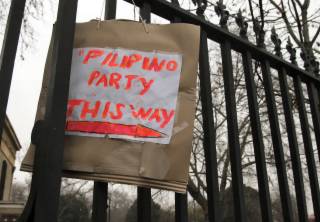 There's a Pilipino party taking place somewhere along my street tonight! And there was me all confused as to whether to use the word Filipino or Philipino when all along it was Pilipino
.
In my World, Sikhs and their culture score exceptionally high marks.
.
Sikhs are a proud people with a capital P and have a shared history with the British that goes back over 150 years. Sikhism emphasises qualities such a staunchness and service, resulting in a long-standing tradition of military service amongst Sikhs. More than 80,000 Sikhs died fighting for the Allies in the two World Wars and they picked up Victoria Crosses like they were confetti. Going back a bit further during the battle of Saragarhi in 1897, 21 Sikhs, armed only with rifles, held-off then were eventually overcome by 10,000 marauding Afghan tribesmen. Yes, marauding Afghan tribesmen. Yes, 500 to 1.
.
Viscount Slim, one of Britain's more enlightened generals, once said "You are never disappointed when you are with Sikh", which was arguably an understatement.

All things considered, these guys are definitely the strong, silent type and it really isn't advisable to f*ck with them at any time of the day or night.
.
If these qualities seem a little old fashioned and conservative there's also the food to consider. Punjabi people are a robust people with robust appetites and their food is like the Punjabis themselves, straightforward, sizeable and hearty with no unnecessary frills or exotic accompaniments. It's unnecessary. Tandoori cooking is brilliant. Even something as simple as their bread is great. Food is an important cross-cultural bridge and I remember thinking after eating my first plate of Tandoori-style nibbles 'This is brilliant. I must learn more about the people who make food like this'. Really.
.
Without going into a full rehash of Sikh culture and tradition it's useful to bear in mind that their religion is important to them and that their temples constitute an important focal point in their life. A few highlights from the Sikh creed …

Live a householder's life: honest, simple and family oriented. Know your responsibilities and honour these.
Contribute to the well being of society by offering selfless service without receiving payment and give ten percent of their net income to a charity, poor person or worthy cause
Avoid the five evils: Pride, Anger , Greed, Attachment to Worldly Goods, and Lust.
Treat every person as an equal irrespective of caste, creed, gender, profession, social status, age, race, or ability
Do not be cruel; nor have a negative outlook on life. Always have a Positive Attitude
Golly gee whizz, yet another monotheistic religion that encourages self-reliance, duty and compassion. Are these guys out of touch with the real world or what? Buy shit. Hope your parents die young so that you can sell their house and have a nice holiday. That's where they should be at.
.
Almost all Sikh men are named Singh, which means Lion, and carry the 5Ks. I mention this because, back in the dark days of the 1970s, Sikhs stood out like sore thumbs on the streets of Britain. I can't remember what the K's stand for but they are Sikh words to describe the five things that baptised Sikh men just have to wear at all times - uncut hair, a comb, a bracelet, a natty pair of shorts and, ahem, a sword.
.
OK, maybe not a sword as such but a good-sized chopper, up to 9 inches long, nevertheless. This is worth remembering if you ever feel like giving a Sikh a hard time.
.
The long hair requirement means that Sikh men wear turbans to keep things nice and tidy. The turban wearing thing is so habitual that it has become an integral symbol of Sikh culture.
.
So, there we were in Britain in the 1960s and1970s confronted with, what seemed at the time anyway, a huge influx of migrants from India. The small proportion of my countrymen who had spent time in India or the military had a fair understanding of what Indians were all about and the respect that came with it. The majority however did not. As far as they were concerned all people from the Subcontinent were simply 'pakkies' - Hindu Indians, Punjabi Sikhs, Muslim Bangladeshis and Pakistanis, even some Arabs, they were all the same. They were 'pakkies'. They all had the same names as well; Singh, Patel, what was the bloody difference anyway?
.
Quite a lot actually. As an exercise in colossal ignorance, and that's what it was, ignorance, the lack of understanding shown by the British to Indians was remarkable. To different peoples with their own, unique identities and with what they saw as a long history of coexistence with the British in their home country, this must have been extremely offensive. The use of the word 'pakkie' is now restricted to only the most racist of people and understandably so. I get the impression that Americans still use that word when referring to Pakistanis. I'd advise them to drop it.
.
I mention all of this because a group of Sikhs took exception to a play being staged in Birmingham this week and several hundred stormed the theatre. The play has now been cancelled on the grounds that further violence was expected and the Birmingham Rep didn't want to run the risk of anyone else being hurt.
.
That such a thing could come to pass in a city as well-integrated as Birmingham has come as a shock to many people, including myself. I lived in Birmingham for a few years and enjoyed the atmosphere immensely. The restaurants that line the Ladypool Road indisputably constitute the finest spot on Earth, including India, to have a pint and a curry and the Indian community has given off a sense of being 'settled' for as long as I can remember. Indians of all persuasions and the British have coexisted side by side whilst retaining their own cultures for a long time now; first in India itself and now in the West Midlands and elsewhere. It must be said that the Indians did most of the running. The idea of Indians, particularly Sikh Indians cutting up rough is unthinkable and quite scary. The last time they did that was back in 1857 and it was messy.
.
The offending play was written by a young Sikh woman and depicts nasty goings on in a Sikh temple, including a rape. Local Sikhs, particularly older or more conservative Sikhs, were outraged and offended. Their culture gets little airtime in the arts and media and it doesn't help if what little coverage they do get is unfairly negative.
.
The night the play was cancelled I found myself defending the actions of the Sikhs to Tracy. I wasn't doing a very good job and Tracy isn't awed, as I am, by Sikh history and tradition. She maintained that, at the end of the day, a violent protest had triumphed over the long-held tradition of free speech in Britain.
.
And she was right. They were being arses. And I'm gutted to admit it.
.
I don't believe for a second that we have anything like genuinely free speech in this country. It's easy enough to produce a play that dramatises a fictionalised rape in a Sikh temple but how easy would it be to stage a production based on the amusing fact that both Hitler AND Mussolini were committed vegetarians or that many of the founders and intellectual backers of the Nazi party were gay? Nope, there's an agenda out there and it's focussed very firmly on discrediting particular groups or social attitudes whilst, at the same time, even the mildest criticism of other particular groups or mindsets is strictly verbotten.
.
But that's no excuse to start a fight.
.
Those outraged Sikhs shouldn't have launched a violent protest. Let's face it, the play was probably rubbish anyway. Most liberal 'entertainment' is. The Sikhs could have protested politely outside, canvassed theatre goers with leaflets and invited them to an open day in their local temple to see the truth of what their culture is all about.
.
Nope they trashed the place. And threatened to trash it some more if they didn't get their own way.
.
I understand. I really do. As with many decent Muslims and Christians, Sikhs are grappling with a secular threat to their way of life. Maybe their culture isn't perfect, maybe there are some bad apples but they've taken a look at the secular, materialist alternative and don't like it very much. The very things that make them what they are are under attack from the soulless and materialistic forces that seek to turn us all into dumb, spiritually dead consumers. Sikhs have a proud religion and culture and some of them feel strongly that they should fight back against people taking cheap shots at that culture and trying to tear it down in the name of progress.
.
I know how they feel.
.
I feel the same way every day.
.