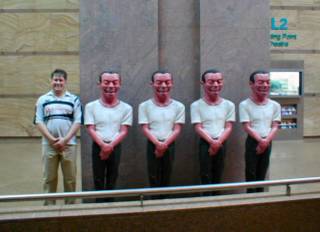 Andy and Friends (yes, I know my pictures are increasingly less to do with my posts. What are you going to do about it?)
.
Tracy wasn't feeling too well this weekend and the weather was grotty. So, I sat back in the sofa and spent the weekend absorbing fine cinematographic entertainment. When not talking to Jesus on The Great White Porcelain Telephone, Tracy would join me occasionally.
.
We watched a lot of films this weekend but three in particular caused me vexious thoughts and the need to scribble …
.
The 6th Day.
.
In many ways this film is just the rehashed left-overs from Blade Runner, Total Recall and a few other paranoid Philip K. Dick short stories but it did have its moments.
.
The premise of the film is that, in the near future, our minds can be backed up onto disk and our bodies cloned. Throughout the movie, characters who are killed or die from disease are recreated at the drop of the hat. The film did touch on some interesting thoughts, such as what does it mean to be human, but, in true Hollywood style, flipped straight into explosive chase scenes whenever there was any risk of the audience thinking about something. The moral of the movie was that, if it were ever possible, cloning people would be wrong and that we should all live within the span we are given. The implication of that moral is that there will come a time in the future when we would have to deliberately limit the effectiveness of medicine which seems a little strange. But, there again, if we didn't limit the effectiveness of medicine we'd have to limit new births and what kind of World would that be? Anyway, the film dealt with these weighty issues by exploding buildings.
.
In truth, I'm not too bothered about the 6th Day scenario as I believe in the concept of something like a soul and can't envisage a future where such a thing could be backed up onto an ipod, with or without an expensive adapter. Plus, like the Olympic Flame, Life only comes from Life. No scientist has ever created a living thing from inanimate components. They tinker unknowingly with living things but, in spite of what we're told, that's not the same as creation. Ditto for artificial intelligence. There's a lot more to true sentience than simply programming a machine with millions of answers to millions of questions. Looking at the World the way they do scientists will never get it, but that's another post altogether.
.
After watching the 6th Day I felt inspired to check out
www.amendforarnold.com
. Yes, the campaign to alter the American constitution, so that foreign born candidates can be elected President, has started. I spent a few minutes perusing the Amend for Arnold site and a reasoned explanation for amending the constitution is conspicuous by its absence. For the sponsors of the site, the need to open the way for Arnold as President is just a 'given'
.
What is it with Austrians and the Triumph of Will thing? It's been widely known for years that Arnold planned to become the World Body Building Champion, the most successful movie star on Earth, Governor of California, then President of the United States, in that order. These things are becoming so, largely because Arnold wills them to be so. I really must practice my focused, demonic stares into the bathroom mirror.
.
I also watched two screenings of For a Few Dollars More last night which also provoked a series of profound thoughts. I appreciate that love for the operatic genius of Sergio Leone spaghetti westerns is a minority thing but I was struck for the first time by several questions relating to the chronology of these movies.
.
Even though The Good, The Bad and The Ugly was the last of the three to be made, it presumably is a prequel, given that Clint Eastwood picks up his cigars and his trademark poncho only at the end of the movie. So that means the true chronological order of the films should be:
.
The Good, The Bad and The Ugly
For a Fistful of Dollars
For a Few Dollars More
.
But that raises more questions than it answers. Clint has found a fortune in gold at the end of TGTBTU yet is flat-broke by the start of the next film. Where did the money go? TGTBTU is set towards the end of the Civil War, yet in For a Few Dollars More the notes stolen from the Bank of El Paso are clearly Confederate Dollars which were withdrawn at the end of the war. Does this mean all three films are set in a narrow range of time between 1864 and 1865. And what is it with the Lee van Cleef thing? He's in two of the films as two different characters. Was there some 6th Day style cloning going on in the Old West. This all may sound very trivial indeed but Star Trek buffs would understand.
.
And then the last, and easily the strangest, of the trilogy of films that bothered me this weekend; The Siege. Made in 1997 the plot is based on a group of Al Qaeda style terror cells operating in New York. Trained in the Art of Terror by the CIA they are subsequently abandoned by the US Administration and exact their vengeance by killing hundreds of New Yorkers in a series of suicide bomb attacks. Martial law is declared and the US Army controls the streets of New York. One scene features a totally naked, shamed and vulnerable looking Iraqi being questioned by a woman then tortured to death in a men's toilet. At the end of the film the FBI's Denzil Washington arrests General Bruce Willis saying things like 'You have the right to remain silent. You have the right not to be tortured or murdered'. Throughout the movie I was struck by an almost documentary-like quality to parts of the movie. It certainly didn't feel like entertainment. Which is strange in that Hollywood movies are characterised by the liberties they take with real events to make them more entertaining on screen.
.
This film easily scores a 9.5 on my own personal bizarreness scale and raises all sorts of questions.
.
Combined with the plot of Executive Decision, made about the same time, the plot of The Siege pretty much anticipates the whole 9/11 thing and its aftermath. Somehow, Hollywood was making astonishing predictions of future events seen by millions, yet at the same time the US Government claims that it had no reason to be concerned about Islamic suicide bombers on home soil. What on Earth is going on here? Are Hollywood screenwriters better at intelligence analysis than the NSA/CIA? Are they psychic? Do Islamic terrorists use old Kurt Russell movies as training videos? Were the events of 9/11 based on a recycled screenplay?
.
Make no mistake, we live in a very strange World.
.
I don't pretend to know what happened on 9/11. There are dozens of compelling reasons to disbelieve what the US and UK governments claimed happened. Admittedly, any alternative scenarios suffer from an equally crippling lack of evidence; but they would, wouldn't they. I do know that whenever the claims of the likes of Blair and Bush have been subject to scrutiny they have been found to be untrue. 9/11 has never been properly investigated and never will be. The events of that day have been used to justify wars, hundreds of millions have bought the story as told. Too much has happened now. That story can never be changed.
.
.
One sub-theme in The Siege is the competition between different US security and law enforcement agencies. Off the top of my head I can think of the following US security agencies:
.
CIA
NSA
FBI (usually portrayed as the Good Guys)
Secret Service
Military Intelligence / US Army
National Guard
Bureau of Alcohol, Tobacco and Firearms (Beer, Fags and Guns)
US Treasury
US Marshals
DEA
State Police
County Police
And, of course, ChiPs
.
That's why at situations like the Waco siege hundreds of agents from numerous organisations were literally tripping over each other, each with their own sure-fire scheme for breaking the deadlock.
.
In the UK we have:

The Police
The Military
MI5 / MI6
.
In the New Zealand they have:
.
A bloke called Barry, wearing a nylon supermarket security guard's uniform, sitting in a 2nd hand Nissan just outside Dunedin
.
That's one of the many reasons why UK movies are less interesting than US ones. There's a whole genre of films featuring the likes of Julia Roberts fleeing from one agency eventually being saved by another, usually the ever-image conscious FBI. No such joy in the UK; 'Nowhere to run to baby. Nowhere to hide'.
.
Why so many agencies in the US? Several reasons probably, but one rises to the top. Control.
.
Hitler was a master of this kind of organised chaos. He quite deliberately allowed for the creation of numerous police and government departments with overlapping and poorly defined areas of responsibility. Then he sat back, confident in the knowledge that no one organisation would ever become too powerful and that eventually all needed to refer back to him as final arbiter in matters of disagreement. His own population, baffled as to who was really in charge, were dazed and confused in all their dealings with state organisations. In the early days it worked a treat. The flaws only started to become evident midway through the War, when the lack of co-ordination between organisations meant that essential war supplies were not being produced, produced badly or in the wrong quantities.
.
At present, UK security services don't suffer from this malaise but most other government functions do. There are literally thousands of NGOs (non government organisations) covering Health, Education and Local Government. We don't elect them. We don't know what each of them does. We don't know what they spend. Many have overlapping responsibilities. That's the future for all societies; divide, rule, confound and, wherever possible, keep us scared.
.
Confused? We're supposed to be.